In 1945, the United States emerged a victor from the largest war both in the country's and the world's history. Millions of young men returned home and needed to be re-integrated into society. It was a huge task, and one that the federal government had already promised to take on. The Servicemen's Readjustment Act of 1944 (colloquially known as "the GI Bill"), promised our returning soldiers a plethora of services aiding their return to civilian life. This included, among other things, healthcare and access to subsidized mortgages, but, most vitally for our story: $500 per year of service earmarked for paying college tuition. Given the tuition rates of the time, this policy essentially guaranteed millions of vets their college tuition paid. In fact, almost half of the 16 million eligible World War II and Korean War vets used this perk to do collegiate level work between 1945 and when the original GI Bill expired in 1956.
For colleges, the GI Bill brought both great benefits and concerns. Schools that had spent the war years with almost no students were suddenly faced with millions of able and mature students returning to campus. While colleges benefitted from this increased demand, most of them did not have the space to house all of these returning students. In addition, the returners were by and large older than many of the students already on campus and would need housing for their young families in addition to themselves, adding yet more demand for housing that did not exist. In responding to these issues, the Federal Works Agency (FWA) worked with colleges to provide quick and effective housing for these new students in the form of veterans' villages.
Buildings of Veterans Villages
The federal government owned great amounts of temporary housing built during the war for housing soldiers at bases both at home and abroad. After the war, there was an unsurprising surplus of that housing, and as the people moved from the military to college, so did their houses. In this section, we explore some of the different types of portable housing used for housing soldiers during the war, then for veterans' villages afterwards. Details varied from college to college, but all used some form of non-permanent housing in order to provide sufficient accommodation as quickly as possible, with many utilizing movable housing left over from World War II. The following are some examples of the types of housing units that would be used in housing veterans, after having housed them as troops during the war. None of them were specifically used at Carleton, but they give a good context for the Carleton housing as well.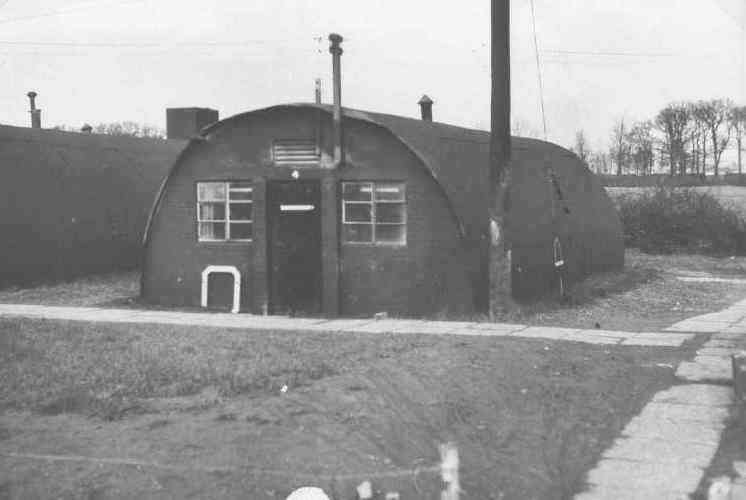 Examples Around the Country
Hundreds, if not thousands, of veterans' villages popped up at colleges and universities all over the country. From Wesleyan to Northwestern to Houston to Ohio State to UC Berkeley, and almost everywhere in between, veterans' villages were a part of nearly every college campus in the country. Below are a histories of specific veterans' villages to give us a good general sense of what happened at these locations.
University of Houston (Houston, Texas)
At the end of World War II, Houston was a small commuter school with less than 1000 students through the war. By the end of 1945, thousands of veterans had returned to the city and wanted to use their GI Bill perks to get a local education. So already by November 1945 they brought in 300 military trailers to begin their veterans' village. At its peak in the late 1940s, the Houston veterans' village had its own constitution, governing counsel and nursery school, among other things. By the mid-1950s, fewer and fewer veterans were enrolling at Houston, and so, in 1956, the village was shut down and became a normal part of the main growing campus itself.
Wagner College (Staten Island, New York)
In September 1946, Wagner built their own set of temporary barracks to start their own veterans' village, as to help deal with an enrollment that went from 440 in 1945 to 2061 just 4 years later. Their veterans' village was one of the more architecturally developed ones, including a 2 story building, in addition to 6 one story buildings, all paid for by the War Department. Unfortunately, they also had one of the shortest-lasting veterans' villages in the country, as it was destroyed by a nor'easter on Thanksgiving weekend 1950, notable for winds of up to 90 miles an hour or higher. As the number of veterans on campus was beginning to drop anyway, the village was never rebuilt at Wagner.
Ohio State University (Columbus, Ohio)
Buckeye Village, much like all of these veterans' villages, was built in response to an immediate housing crisis following the war, but their problem felt much more real much quicker, as exemplified by married students being forced to live in 185 trailers on the state fairgrounds. The largest housing built for Buckeye village was directly as military barracks, which housed 810 men in basic barracks. By late 1948, they offered married vets the opportunity to live in a group of about 350 apartments near campus for rent of between $29 and $43 a month.
Conclusion
All in all, veterans' villages after World War II were an extremely common mechanism used to house the millions of veterans returning from war who had been guaranteed an education by the GI Bill. Many of them looked very much like the barracks the soldiers had lived in during the war, at least in terms of the buildings they lived in. There were notable variations in the histories of individual veterans' villages, but many of the same stories epitomized this huge part of colleges' histories in the first decade after World War II.
References
University of Houston Libraries
2012 University of Houston Veterans Village. Electronic document http://archon.lib.uh.edu/?p=creators/creator&id=119 accessed May 2017.
Morin, Betsy.
2000-2016 World War II Veterans and the G.I. Bill Revitalize the University of Houston, 1944-1946. Electronic Document https://houstonhistorymagazine.org/wp-content/uploads/2013/03/GI-Bill.pdf accessed May 2017.
Regan, Claire M.
2016 At Wagner, Veterans Village gave returning WWII servicemen a boost. Staten Island Real-Time News November 11: Staten Island, New York.
The Ohio State University University Libraries.
2011 First Buckeye Village Residents: WWII veterans. Electronic Document https://library.osu.edu/blogs/archives/2011/11/10/first-buckeye-village-residents-wwii-veterans/ accessed May 2017.
US Department of Veterans Affairs Education and Training.
2013 History and Timeline. Electronic Document http://www.benefits.va.gov/gibill/history.asp accessed May 2017.
Ourdocuments.gov.
1944 Servicemen's Readjustment Act. Electronic Document https://www.ourdocuments.gov/doc.php?flash=false&doc=76 accessed May 2017.
Credits
Ben Koppel