The Olin Farm and the land surrounding it are integral parts of the history of Carleton, its campus, and the history of Northfield. Like many other students at this school, we do not pay much mind to our college environment in our busy days of studying and writing papers about topics outside of Carleton. Thus, our experience learning about Olin Farm, a part of our college, in ARCN 246 gave us a sentimental connection to our academic work. In our research for our final project, we visited digital archival data, interviewed Olin family descendants, and sourced artifacts to get a big picture of the history of Olin Farm. This research led us to question what came before the farm, what happened while the farm was there, and the broader implications of the historical events at the time. We considered historical events in the Northfield area, including conflicts between white American political figures and Natives, and how such conflicts affected the way people in Northfield eventually organized their lives. Using historical context, we applied our understanding of what happened in Northfield to the lives led by members of the Olin family. Thus, our research is an in-depth compilation of the events happening in the lives of Olin family members, contextualizing their timeline with relevant information about simultaneous historical events.
---
Pre-colonization Minnesota
It is widely accepted that Native Americans have been living in the area now known as Minnesota for 9,000–12,000 years. The Minnesota region was important to Native American peoples for thousands of years as they used the waterways for transportation, food, and to develop trade relationships with other native peoples. By the 1600s there were two main groups of people living in present-day Minnesota, the Dakota and the Ojibwe.
Jun. 13, 1811
Thomas Olin, father of Alvah and Rollin Olin, was born in St. Lawrence county, New York, where he remained until twenty three years of age to then go to Ohio for a year, then to Milwaukee, where he met and married Miss Sarah A. Church in 1837. The couple moved to Waukesha, Wisconsin, where they had children. Eventually, Thomas Olin would move with his family to Minnesota, where he would homestead the Olin Farm.
Aug. 17th, 1839
Rollin Carolus Olin was born in Waukesha, Wisconsin. He had fought as a lieutenant in the war against the Dakota. First Lieutenant Olin was second-in-command of the 3rd Minnesota Regiment at the Battle of Wood Lake. He was designated Judge Advocate in the Commission Sibley to carry out the Mankato executions and later was named Assistant Adjutant General of the District of Minnesota.
Aug. 1st, 1843
The Olin Family Tree
Alvah Melancthon Olin was born on a farm near Waukesha, Wisconsin. Alvah later plays a part in the Civil War, which includes some involvement with native peoples and proceeds to maintain the Olin Farm after his father's death.
Aug. 5th, 1851
In response to the growing white population having tensions with pre-existing Dakota lands, the Dakota people signed two treaties, one of which being the Treaty of Mendota, allowing Euro-American settlement of Rice County, MN where Olin Farm is located. The Dakota had to cede 35,000,000 acres of land at 12 cents an acre in exchange for $3,750,000 to be paid over time, which they never received. The Dakota ended up retaining a 20-mile strip of land along the MN river, while the rest of their lands became available for Euro-American settlement.
May 31st, 1855
After briefly coming to Rice County in 1854, Thomas Olin preempted a claim at Prairie Creek, a Northfield township, southeast of Northfield, then returned to Wisconsin in the fall to get his family. The Pioneer family returned to Rice County, but when they did on May 31st, 1855, Thomas found that a Mr. Sanford had jumped the claim to his location. To avoid conflict, Mr. Olin abandoned his original claim and bought the rights to a claim on the north edge of what is now Northfield from someone named George Smith.
"I went to a claim near Kenyon, that I had taken up the fall before, to find it had been jumped so I came on to Northfield and took up a claim on the Cannon River. We came to Minnesota in 1855. We brought with us four yokes of oxen, thirty-five head of cattle and three hogs. We, with a family of three sons and a daughter, were four weeks on the way. I came on to Northfield and took up a claim on the Cannon River. We had with us two covered wagons-known as prairie schooners. When we staked out our claim, we laid a floor and placed a tent over it where we lived till logs could be procured. These, we got on the west side of the river, then government land. For shingles we drove to Trim Mill ten or twelve miles the other side of Prescott, Wisconsin. At one time that summer two hundred Indians were camped near our farm for two days on their way to St. Paul." –Alvah Olin, relaying his father's story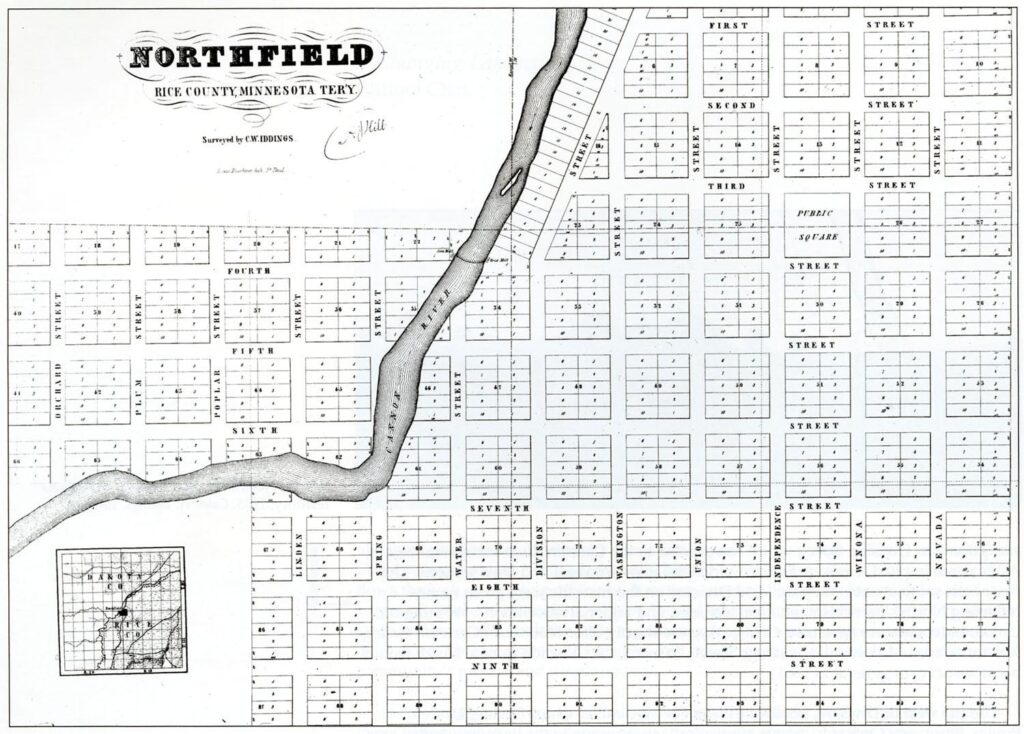 Northfield, Minnesota map from 1855, Caleb W. Iddings, surveyor
1856
It was at the Olin Farm that the first service of the Congregational church, which is now the first UCC church, was held in the summer of 1856. Alvah Olin's parents were among the six people who organized the local church. Later, Alvah Olin was a member of the Congregational church in Northfield in 1864, and he continued his faithful membership in the church which his father and mother had helped to establish seventy-five years earlier.
Mar. 19th, 1857
Thomas Olin, Alvah Olin's father, acquired a title for 80 acres of land–"Olin Farm"–signed by President Buchanan. The Olin family starts living at the farm, where they likely had the eight oxen, thirty five cows and three pigs they brought from Wisconsin.
The Land Title for the Olin Farm
The Minnesota Census, September 1857, shows the Olin Family living in Northfield.
May 11th, 1858
Congress passed the bill for the admission of Minnesota to the Union and President James Buchanan approved it. We see later on May 24th, 1858, the state officers took their oaths of office and Minnesota's state government became official, making Henry Sibley governor of Minnesota, who would later have a major contribution to the treatment of natives in the Dakota War.
Oct. 12th, 1861
Lt. Rollin Olin, Thomas's oldest son, Alvah's older brother, joined the military as a 2nd Lieutenant. The following year he became a 1st Lieutenant and ended up fighting in the Dakota War.
May 20th, 1862
President Lincoln signed the Homestead Act of 1862. This Act, enacted during the Civil War in 1862, provided that any adult citizen, or intended citizen, who had never borne arms against the U.S. government could claim 160 acres of surveyed government land. Claimants were required to live on and "improve" their plot by cultivating the land. After five years on the land, the original filer was entitled to the property, free and clear, except for a small registration fee. Title could also be acquired after only a six-month residency and trivial improvements, provided the claimant paid the government $1.25 per acre. After the Civil War, Union soldiers could deduct the time they had served from the residency requirements.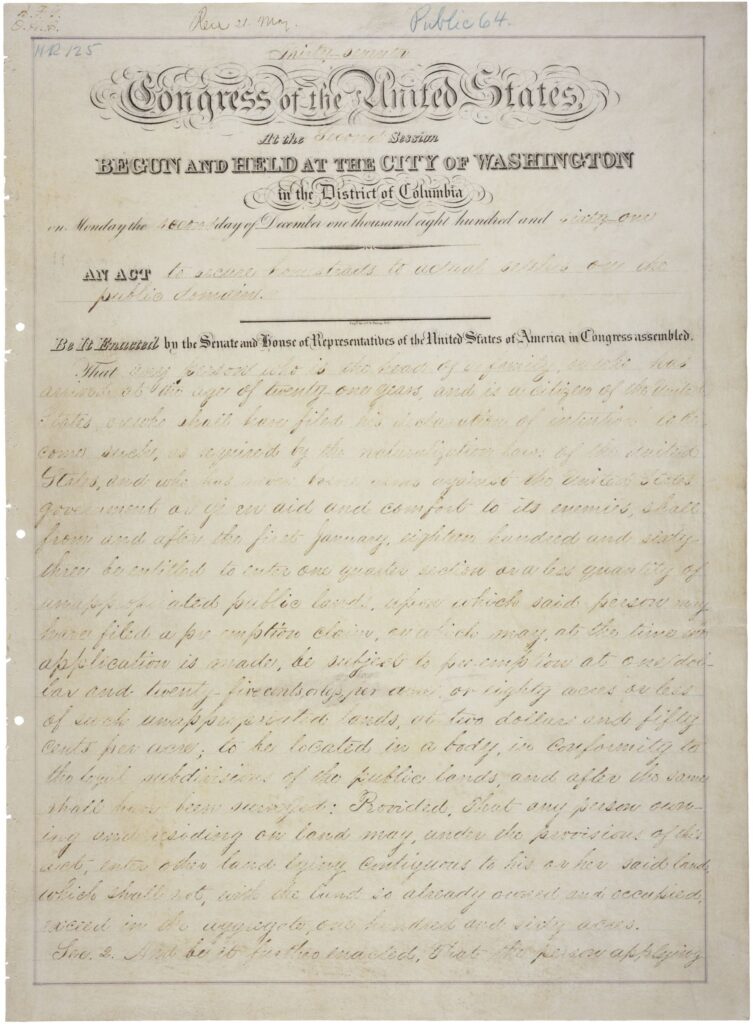 The Homestead Act of 1862
Aug. 17th, 1862
An armed conflict between the United States government and several groups of Dakota people, known as the Sioux, began along the Mississippi River in Minnesota. At the hands of young, male Dakota warriors led by Chiefs, hundreds of white settlers are killed. A series of battles ensue, including U.S. Army troops retaliating with a victory in The Battle of Wood Lake on September 23rd, 1862. The initial August conflict and the consequent battles became known as the U.S. Dakota War of 1862.
"Soon after the battle I, with many others who had taken part in the war, surrendered to General Sibley. Robinson [Robertson] and the other half breeds assured us that if we should do this we would only be held as prisoners of war for a short time, but as soon as I surrendered I was thrown into prison. Afterwards I was tried, and I served three years in the prison at Davenport and the penitentiary at Rock Island for taking part in the war. On my trial a great number of the white prisoners, women and others, were called up, but not one of them could testify that I had murdered any one or had done anything to deserve death, or else I would have been hanged. If I had known that I would be sent to the penitentiary I would not have surrendered… I did not like the way I had been treated."
– "A Sioux Story of the War," Big Eagle's (Waŋbdí Táŋka) narrative after the Battle of Wood Lake
Dec. 26th, 1862
Towards the end of the Dakota War, the U.S. executed 38 men in Mankato just one hour from Northfield. Rollin Olin, Thomas's eldest son, was designated to be Judge Advocate by Henry Sibley, the then Governor of Minnesota, and he played an active role in deciding whether or not the 38 Dakota men should be killed. The mass execution of these men ended the Dakota War, though the residual effect of such killings would affect people well into modern times.
A sketch by W.H. Childs was shown in Frank Leslie's Illustrated Newspaper of the tragic hanging of 38 Dakota men in Mankato, Minnesota.
1864-1865
Following his father's death, Alvah M. Olin moved back to his home on the Olin Farm until 1864 when he enlisted in Company H of the Second Minnesota calvary for the Civil War. Alvah M. Olin serves in the military at Fort Ridgely, MN, not too far west from Northfield. Rather than go far out south to engage in the Civil War, Alvah had to perform "guard duty against the Indians," as quoted in Alvah's obituary from the Faribault Daily News, 1931. Thus Alvah was drafted by the military and served for one year during the civil war, his exact engagement with Natives during that time unspecified. Later, Alvah was transferred to St. Paul where he worked as a clerk in the ordnance department.
A drawing of Fort Ridgely in 1862, by anonymous.
1865-1885
Alvah Olin and his wife move to a different farm, formerly owned by Erick Halvorson, while his father Thomas and mother Sarah stay on the old homestead at the Olin Farm.
Timeline Detour: Check Out The Artifacts!
(Images courtesy of Janet Bunday, granddaughter of Alvah Bunday, A.M. Olin's grandson)
Artifact Description: The soup tureen and flask belong to Thomas Olin's son Rollin Olin, brother of A.M. Olin. The tureen includes his wife Georgia's name on it and the date of their wedding, October 30th 1865. The flask was engraved to Thomas from another doctor "Phil Porter" in October of 1885, perhaps given to him he was living in Detroit, MI.
1885 – 1912
After the war, Alvah returned to Olin Farm until 1867 where he continued farming on Prairie Creek. With his wife who he married in 1868, they resided on the Olin farm at Prairie Creek for eighteen years, took over Olin farm, and lived there for many years until moving to a residence on Woodley Street in Northfield in 1912.
1912
Alvah M. Olin retires from farming, and the Olin family no longer has any residency at the Olin Farm. Once Alvah moves to his residence on Woodley Street, the Olin Farm property deed goes to the Bennett Family.
1914
The deed of the farm goes from the Bennet Family to the Kelley Family.
1915
The Kelley family gets a mortgage from the Bennet family and continues to maintain the Olin Farm for two years.
1916
The Olin Farm was sold from William Kelley to Carleton College, and the farm was used until the 1960s.
Timeline Detour: Check Out The Artifacts!
(Images courtesy of Janet Bunday, granddaughter of Alvah Bunday, A.M. Olin's grandson)
Artifact Description: An interesting snippet of correspondences occurring around October 4th, 1918, these are scanned copies of one of the letters written by Alvah Bunday, A.M. Olin's grandson while he was at Carleton as part of the Students' Army Training Corps while also taking some classes, showing involvement of the Olin family with Carleton after their time on the Olin Farm. This letter references orders from "Cowling," who the arboretum is named after.
---
As shown in our timeline, the events in the early history of Northfield are deeply intertwined with the lives of Olin family members. We saw Olin family members engage in such events, namely big ones like the Mankato executions. While we recognize the involvement of some Olin family members in the Dakota War, we want to note that the purpose of our project was not to paint a negative image of the Olin family with our integration of this dark part of their history. Some family members had several positive contributions to Northfield, like the founding of the first congregational church by Thomas and Sarah Olin. At the same time, though, native peoples were gradually suppressed despite being a self-supported community with strong chiefs for thousands of years before the Olins and other white settlers came to their land. We recognize that the main setback debilitating the continuation of the large native presence in Northfield were the circumstances of war. Despite describing the defeat of natives in our timeline, our goal for our project was not to paint the natives as helpless people. Rather, the natives thrived in their community and were an important part of the history of Northfield and the backbone for many events in the lives of Olin family members.
---
Interactive Timeline Activity!
After looking at our timeline, feel free to test your knowledge about the history of Olin farm and the historical events at the time by clicking the following link: Quiz
---
Bibliography
"Abraham Lincoln." The U.S.-Dakota War of 1862, 7 Dec. 2012, www.usdakotawar.org/history/abraham-lincoln.
Act of May 20, 1862 (Homestead Act), Public Law 37-64 (12 STAT 392); 5/20/1862; Enrolled Acts and Resolutions of Congress, 1789 – 2011; General Records of the United States Government, Record Group 11; National Archives Building, Washington, DC.
Bierman, Emily A. Sargent. "Page 16." CONTENTdm, Carleton College, https://contentdm.carleton.edu/digital/collection/NfldHistSoc/id/3965/rec/1
"Capt Rollin Carolus Olin (1839-1910) – Find a…" Find a Grave, https://www.findagrave.com/memorial/37519849/rollin-carolus-olin.
"Cession 289." The Indigenous Digital Archives, https://digitreaties.org/treaties/cession/289/.
Childs, W. H., The Execution of 38 Sioux Indians by the U.S. Authorities, at Mankato, Minnesota Friday, December 26. http://collections.mnhs.org/cms/display?irn=10820486&return=brand%3Dcms%26q%3DW.H.%2520Childs%2520in%2520Frank%2520Leslie%2527s%2520Illustrated%2520Newspaper%252C%2520January%252024%252C%25201863%252C%2520page.
Chomsky, Carol. "The United States-Dakota War Trials: A Study in Military Injustice." 43 STAN. L. REV. 13, 1990, https://scholarship.law.umn.edu/cgi/viewcontent.cgi?referer=&httpsredir=1&article=1230&context=faculty_articles
DeCarlo, Peter. "Treaty of Mendota, 1851." MNopedia, 22 Apr. 2013, https://www.mnopedia.org/event/treaty-mendota-1851.
Fort Ridgely, 1862. Anonymous. http://collections.mnhs.org/cms/display.php?irn=10454004 .
"Primary Documents in American History: Homestead Act ." Homestead Act: Primary Documents of American History (Virtual Programs & Services, Library of Congress), https://www.loc.gov/rr/program//bib/ourdocs/homestead.html.
Temprano, Victor. "Wahpekute." Native Land Digital, Native Land Canada, 31 July 2022, https://native-land.ca/maps/territories/wahpekute/.
"The Trials & Hanging." The U.S.-Dakota War of 1862, 15 June 2017, https://www.usdakotawar.org/history/aftermath/trials-hanging.
U.S. Bureau of Land Management. "U.S., General Land Office Records, 1776-2015." Bureau of Land Management, General Land Office Records, Federal Land Patents, State Volumes, 2008, https://glorecords.blm.gov/details/patent/default.aspx?accession=MN1080__.354&docClass=STA&sid=jdtejfpm.dhg . Accessed 20 Oct. 2022.
"US Dakota War 1862: Minnesota County by County." US Dakota War Minnesota County by County 1862, 2012, https://usdakotawarmncountybycounty.com/county/rice-county-us-dakota-war.pdf.
unknown American (American cultural designation). Northfield, Minnesota. 1855. JSTOR, https://jstor.org/stable/community.24322142.