By Dani Reynoso, Sara Negasi and Bladimir Contreras
Our final project is focused on the Olin Farm during the period it functioned as a farm for Carleton College. We created a story map, here's the link to it: https://arcg.is/0u4ee
Like many other Midwestern colleges at the time, Carleton took part in the purchase of farmlands in order to help provide for their student body. Carleton itself purchased multiple other farms in the immediate area to the Northwest of campus. Some of these include the Parr Farm, Peterson Farm, and Arnold Farm.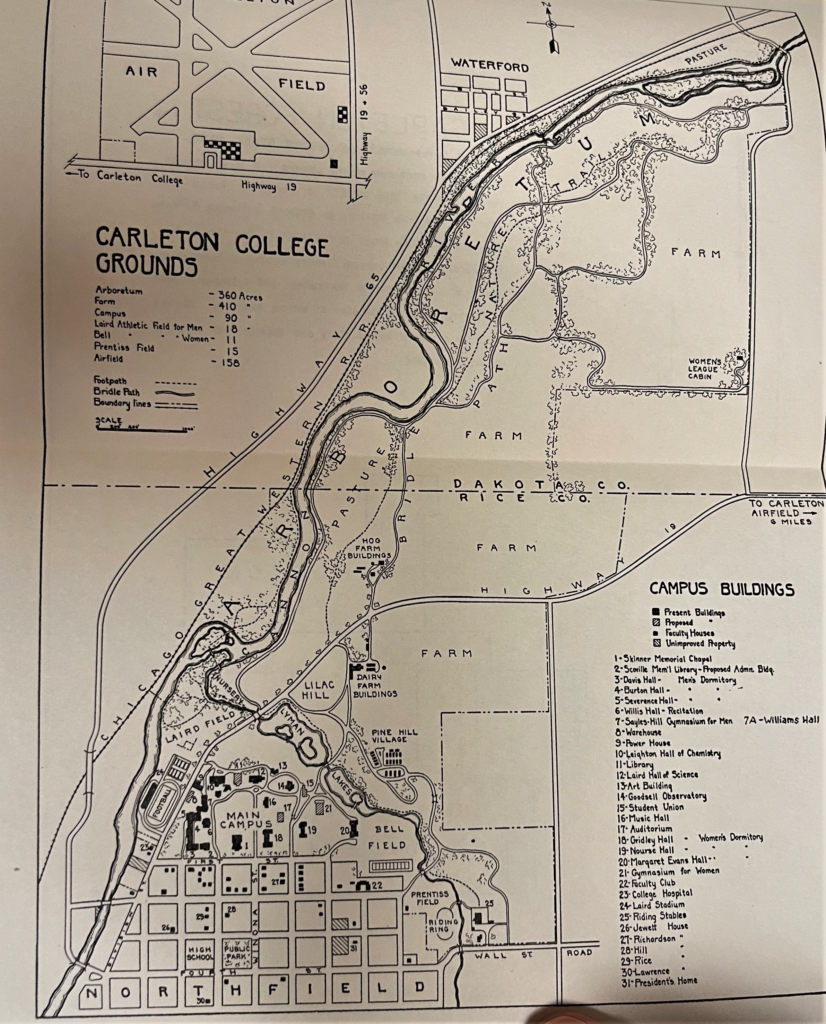 Our project is focused specifically on the Olin Farm area, which is the area labeled under 'Hog Farm Buildings'.
The map below depicts the layout and dimensions of the Olin Farm with the farmhouse on the right and the hog barn, granary and chicken house on the left.
Our research question was guiding by the fact that so much is unknown about the Olin Farm separate from the Carleton Farm and so our goal was to try and learn what life was like on the farm for students and workers as well as to understand the purpose for Carleton's purchase of the 100 acre farmland.
Our timeline begins with the purchase of the Olin property by Carleton in 1916. It was bought with the intention of being able to feed more students who were enrolling into Carleton and it was a very common purchase for the school.
The above article clipping is from the school's newspaper that stated Carleton students were able to work on the farm to pay off their room and board. Other archived fiscal reports detail how the house was also rented out to people who would come to work on the farm. The last record of the house being rented out was in 1963 when a man named Norman Johnson paid $660 to rent the Olin residence for a year.
The above note addressed to President Cowling describes how the farm was becoming difficult to maintain thanks to crop failures and a decrease in income from the property. The 1964 letter below is from the Treasurer's Office and it shows the decline of the Carleton Farms (including Olin) and the college wanting to rent the property.
The last financial record of the farm is from 1964 so we assume that the land was maintained by the school as a former professor currently occupies the house. It is also now part of the area that is known as the Cowling Arboretum, and so the land surrounding the house consists of a nature path.
—
Overall, he hope that our project is able to present and explain in an engaging way the history of the Olin farm from 1916-1960(ish). All the information above including texts, images and documents, can be used to explain possible functions of the Olin/Kelley Farm. Lastly, thank you for reading this far, we truly appreciate it. If you have any questions, comments, concerns, input, etc. regarding the entry above, feel free to reach out to us via email contreasb@carleton.edu, negasis@carleton.edu, reynosod@carleton.edu. We'll be more than happy to connect with you 🙂